PaintSpa turns your computer into a studio.

PaintSpa was probably one of the most well known applications for the Nimbus PC in UK schools.
It was likely most school childrens first interaction with a 'mouse'.
The original DOS version apparently sold over 24,000 copies.

It was preceded by 'PaintSpa Plus' then 'PaintSpa for Windows' in late 2000.
Produced by SPA (Software Production Associates) who were officially formed in 1983, but state 1980 as their incorporation date.

vvv According to the manual vvv
"Unlike most things to do with computers, you do not need a degree in
computer wizardry to use PaintSpa."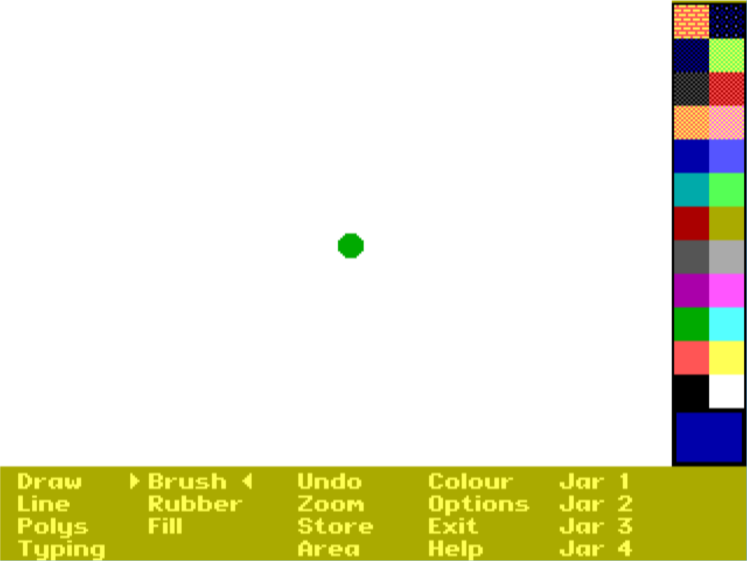 Example images that were included with the application were as follows:
Interestingly, the image of the boat on the river is a reproduction of a Georges Seurat painting, 'The Seine and la Grande Jatte - Springtime 1888'
Here is the original(on the right), click for a comparison:





Things you could do with PaintSpa(from the manual):
Draw freehand, rule lines, rectangles and circles
Brush with dozens of different brush shapes
Use a keyboard or a mouse
Select from a very rish palette of colours and patterns
Paint solid shapes and flood irregular shapes with paint
Undo any mistake instantly!
Type text of various sizes and styles
Move, copy and flip parts of the picture
Library of useful pictures for you to modify
Print out pictures on a wide range of black & white and colour printers
Zoom in on any part of your picture to re-touch it (nimbus only)
Overlay seperate images to build up complex images (nimbus only)
The copy we have here at the museum was from a British local authority and includes a 16 station site licence.

It comes in a plastic case which holds the 3.5" 720k floppy disk & Manual.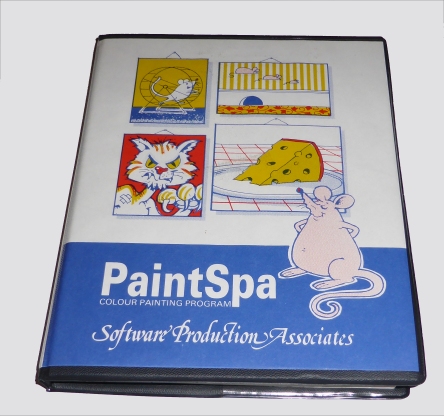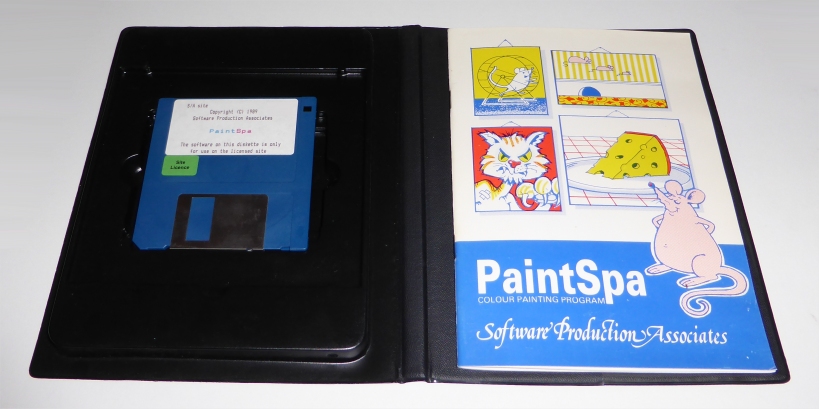 A covering letter quoting the invoice number, station licence total and terms & conditions is included, printed on 'classic' watermarked paper: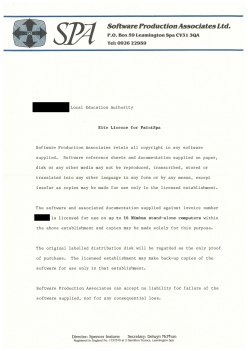 For a short video on opening up some example images please view the below video:

PaintSpa Plus!

According to the manufacturer:
"PaintSpa Plus is proving just as popular as its predecessor, PaintSpa, was. And that's not too surprising. You can take the fullest advantage of the graphics of your machine, but you can also tailor PaintSpa Plus to the experience of the pupil. So even though PaintSpa Plus is packed with features, it is even easier to use than ever."

Select from Low, Medium and High* Resolution and use 16 or 256* colours.
Use round, square, flat and oblique brushes, as well as variable speed airbrushes and stipple brushes.
Use different brush styles - blur colours; change colour as you change your brush speed!
Wash over the whole canvas with graduated colour washes.
Use colour rubbers to change just one colour to any other.
Scores of ready-drawn figures included for instant picture making.
Optional simple palette and menus for beginners.
Pick up colours off your canvas and pop them into your palette.
Fetch other pictures into the Cuttings room - then select what you want and paste it into your own picture.
Draw squares, oblongs, circles and ellipses - use different colours for the border and inside.
Palette with up to 1000 colours and patterns; customise it to look how you want it - and Keep it for use with other pictures.
Optional pop-up palette and menu - use the whole screen to paint if you want.
Variable zooming in - and see your picture full size at the same time.
Copy and Move areas in Zoom.
Select areas of the screen for copying, moving and brushing - or flipping, tilting or rotating.
Select and print a group of pictures; enlarge or make poster-sized print-outs.
Use PaintSpa Plus, BMP or most PCX formats.
Invent your own patterns for painting with.
PaintSpa Plus pictures can be Kept in the old PaintSpa format. PaintSpa pictures can be Fetched into PaintSpa Plus.
Context sensitive Help always available.
Print out on a wide range of colour printers.

I've been unable to locate a copy of PaintSpa Plus! therefore this is all the information I have.
PaintSpa for Windows (w95 onwards)

According to the manufacturer:
"PaintSpa is the ideal children's painting program. It encourages children to work with tools that are appropriate for their age and experience by choosing the appropriate level. It is exceptionally easy to use."

Hundreds of ready-drawn stamps you can pop onto your pictures.

Droplet brushes to brush flowers, footprints, stars, butterflies and much more onto your pictures.

A zillion zany brush effects - droplets, dripping, spiralling, stipple...

Brush with rainbow effects, alternative colours or contrasting colours.

Wonderful geometric nature brushes - brush snowflakes, trees, dragon patterns (recursively!) etc.

Simple to use palette - no fiddly tiny selection squares - but a full range of colours easily available.

Brushes include round, square, diagonal, hollow, airbrush.

Brush with solid colours or with patterns.

Draw squares, oblongs, circles, ellipses - and any regular shapes such as equilateral triangles, hexagons etc.

Floating artist's palette for storing colours you use often.

Lots of effects - blur, darken, lighten, soften.

Easily change one colour (or a range of colours) to another.

Flood fill any shape.

Type text onto your picture in any font, size or colour.

Multi-level undo to get rid of a whole chain of mistakes!

Select rectangular or irregular areas of your picture.

Reflect, enlarge or rotate (through any angle!) a selected area.

Zoom in on part of your screen - choose whether to see the unzoomed picture as well as the zoomed part.

Open and Save pictures in many different picture formats.

Comprehensive Help throughout the program.

Type foreign (accented) characters with ease!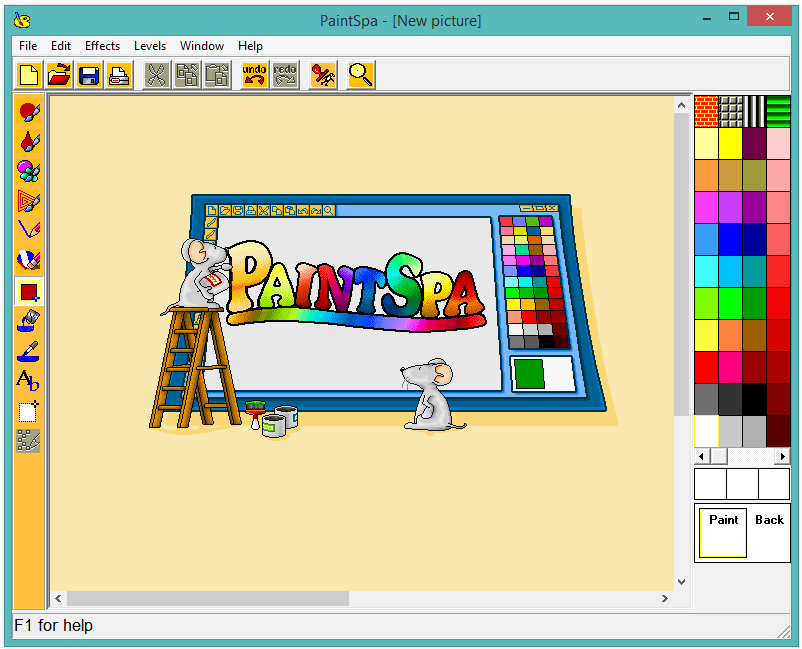 'PaintSpa for Windows' was the last of the PaintSpa trilogy.
A demo version of PaintSpa for Windows was produced in 2001 that allows
30 days use and runs, even today, quite happily on 64bit Windows 10.
As this was a time limited demo that was publically available, I
should think it fine to make that file available for download here.
(Unzip and run setup.exe)